How I make Sopor Slime Pies
Sorry if this shows up multiple times, I was having trouble submitting.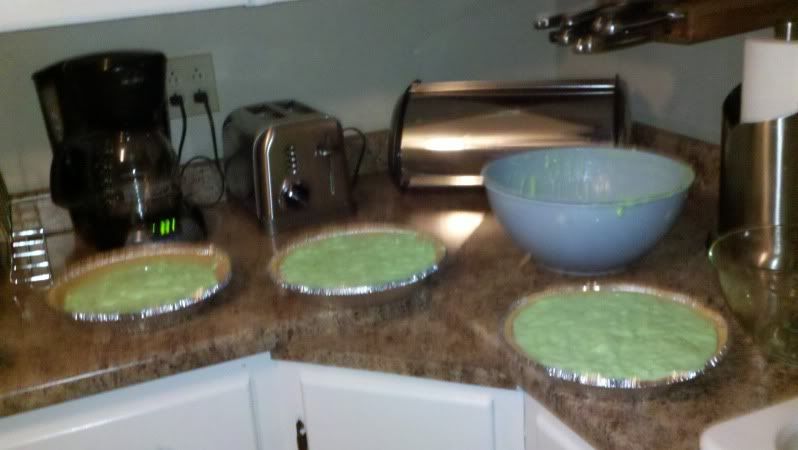 How I make my Sopor Slime Pies - copied this off one of my first posts, but I don't think anything needs to be changed. Sorry for the blurry photo.
Ingredients:
2 Cups Pineapple Juice
16 Large Marshmallows
3 oz package of Cream Cheese
2 Packages of Lime Jello
1/2 Pint of Whipping Cream
Bring the pineapple juice to a boil. Add the marshmallows and cream cheese, bring back to a boil, and add one package of lime jello. Stir until dissolved. Remove from heat, put in a large bowl, and let sit in the refrigerator until cool.
Add the whipping cream already mixed, and mix with the jello using an electric mixer. Mix until they are thoroughly blended. Next, allow to sit in the refrigerator for at least 1 hour.
Make the other package of lime jello. Let cool on counter top until cool. Pour very carefully over the top of the other mixtures, and allow to set in the fridge for 2 to 3 hours.
Slime pie: In order to achieve the effect that I did, ignore the last step. Instead, mix all of the parts together until blended roughly evenly (depending on the texture you want). Pour this mixture into a pie tin or pie crust, and then allow to sit for several hours. The final consistency for the pie version should resemble that of custard pie, and the taste is very strongly lime and pineapple.
More recently, I also made it using Faygo instead of water in the gelatin, and the consistency was slightly different, but it turned out fine otherwise. Didn't have much of it myself, but wasn't fond - some of the people I shared it with preferred the Faygo version, so to each his own.